The first annular solar eclipse visible in the United States in nearly 18 years will occur on Sunday, May 20.
But before you buy tinted safety glasses or start making your pinhole projector (never look at the sun with the naked eye!), you should know: When it comes to viewing the solar eclipse in the US, only those lucky folks who are west of the Mississippi River will be able to see a partially-eclipsed sun, according to NASA.
SCROLL DOWN FOR ECLIPSE PATH AND TIMES IT CAN BE SEEN
In the United States, the path of annularity, or the path of the shadow, is only about 300 kilmoters (186 miles) wide and stretches from southern Oregon and northern California to western Texas, crossing parts of Nevada, Utah, Arizona, Colorado and New Mexico. According to Space.com, about 6.6 million people live within the path.
NASA has a list of when and where the can be seen, even in those locations outside the path of annularity. Check out the map below and click the yellow pins to see when the eclipse will be visible in that location, and for even more locations, click over to NASA's comprehensive list. (Hint: Here's a UTC time conversion table.)
An annular eclipse is when the moon covers up most of the sun except for the sun's outer fringe, leaving visible a ring of fire, or "annulus," which is Latin for ring.A total eclipse, by contrast, blocks so much sunlight that the ground is cast in an eerie midday twilight — a far more breathtaking experience.
If you are going to attempt to view the "ring of fire," be sure to follow these safe viewing directions from The Exploratorium. Attempting to look at the sun with the naked eye or an optical device, like a telescope or binoculars, can result in permanent eye damage.
If you're east of the Mississippi River, don't worry — the Slooh Space Camera is broadcasting the event live, using telescope feeds from Japan, California, Arizona and New Mexico. Slooh's live feed begins at 5:30 p.m. EDT on Sunday.
Finally, if you catch a glimpse of this fiery phenomenon, be sure to tweet your photos to @HuffPostScience with the hashtag #solareclipse. You can email us at [email protected] We'll be collecting user photos from all over, and yours may be featured!
Path of annularity by Jay Anderson courtesy of the University of Manitoba.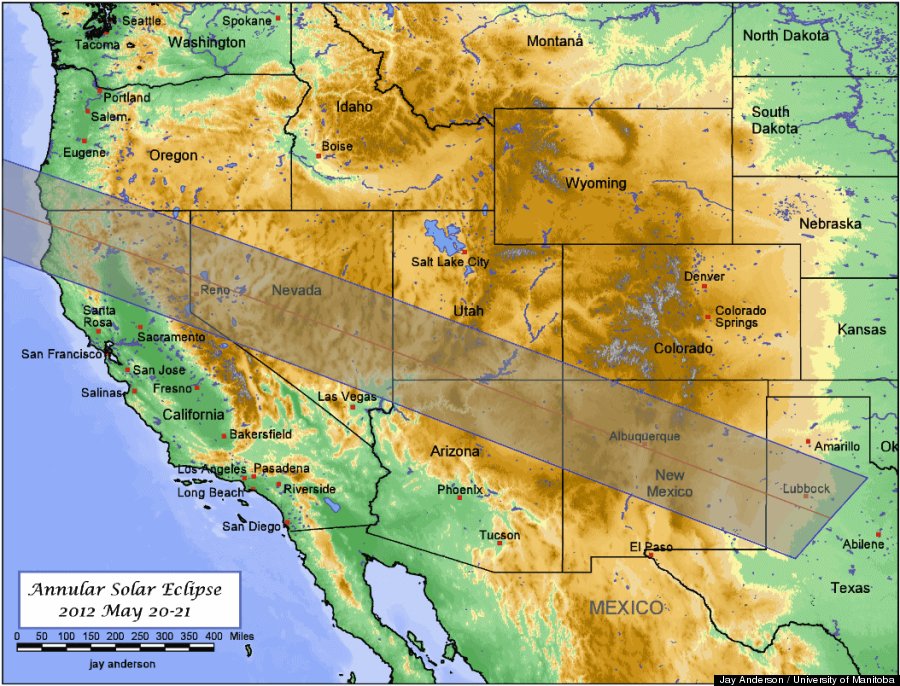 For Photos and More Information on What Time The Eclipse will Happen in Your Area CLICK HERE.